WELCOME to Kezar Lake, in the beautiful mountains of Western Maine
Visit Kezar Lake in Lovell, Maine, and enjoy the serenity of "one of the three most beautiful lakes in the world". Hidden in the foothills of the White Mountains, the lake offers superb facilities for swimming, boating, fishing, dining, and all around summer fun.

Kezar Lake was named #18 nationally, and was named the #1 Bass Lake in New England, 2012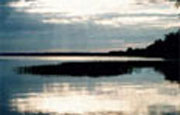 A major Loon nesting area, we are also frequently treated to the sights of moose grazing in the shallows among the water lilies. Boasting one of the cleanest and clearest lakes in Maine, we are fortunate to enjoy fishing for bass, lake trout, and salmon. The tradition of "catch and release" has added greatly to the growing sport of fresh-water fishing on Kezar Lake.

Kezar Lake Marina can provide everything you need for a perfect vacation on the lake...
• Boat Rentals
• Sales and Service
• Water Ski Rentals
• Storage
• Slip Rentals
• The Marina Store
• The Loon's Nest Restaurant
• and our friendly and helpful staff